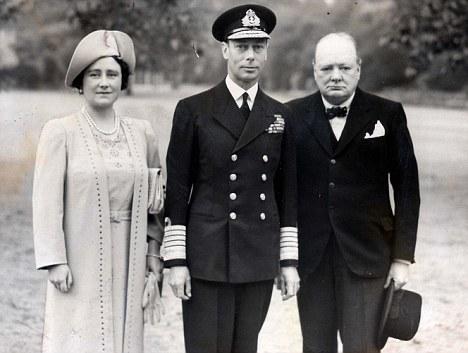 Benson & Clegg is proud to have served the Royal household as tailors and outfitters for over 80 years and we are privileged today to hold the Royal Warrant to His Royal Highness The Prince of Wales, an honour we have held since 1992. But the company's first royal appointment came decades earlier and was granted by perhaps the most famous customer in the Benson & Clegg Ledger – His Majesty King George VI.
The King had been a customer of Harry Benson and Thomas Clegg while holding the title of His Royal Highness The Duke of York, at a time when he was not expected to inherit the throne, instead spending much of his early life in the shadow of his more extroverted and fashionable older brother, a man who was famed for his strong sense of style and pushing the boundaries of sartorial convention. But following Edward VIII's abdication, George – although reluctant – demonstrated a level of tradition and stability in his role as monarch and encapsulated an authoritative but timeless style through the clothes he wore – stark contrast to his predecessor.
"King George VI shows us that he likes to be dressed suitably on all occasions without the slightest ostentation or eccentricity. He chooses his clothes with great care, and one notices a scrupulous neatness in every detail of his appearance."  Men's Wear; July 1938
In 1944 Benson & Clegg were formally granted the honour of the Royal Warrant as his bespoke tailors. In being given this honour, the firm was responsible for the creation of the King's formal attire, including his suits and morning dress, as well as his famous overcoat. The young King often opted for a double breasted suit with wide peak lapels, a style that flattered his slim build but commanded authority.
"The present King's attitude towards clothes closely resembles his father's. That is a good omen for the clothing industry, which has everything to lose and nothing very much to gain by any tendency towards experiments while the present mood for dress reform is on."   Men's Wear; July 1938
Additionally, our tailors were responsible for a large proportion of the King's military uniform, including his famous naval jacket, which he wore in his role of Admiral of the Fleet.
Throughout his reign, King George VI epitomised British style and sophistication, dressing in a manner that demonstrated a distinctly British tone which was admired across the globe. His wardrobe was elegant but understated and encapsulated the very essence of traditional British tailoring – a tradition that Benson & Clegg continue to this day.