Meet the Maker: Daniel Kozyra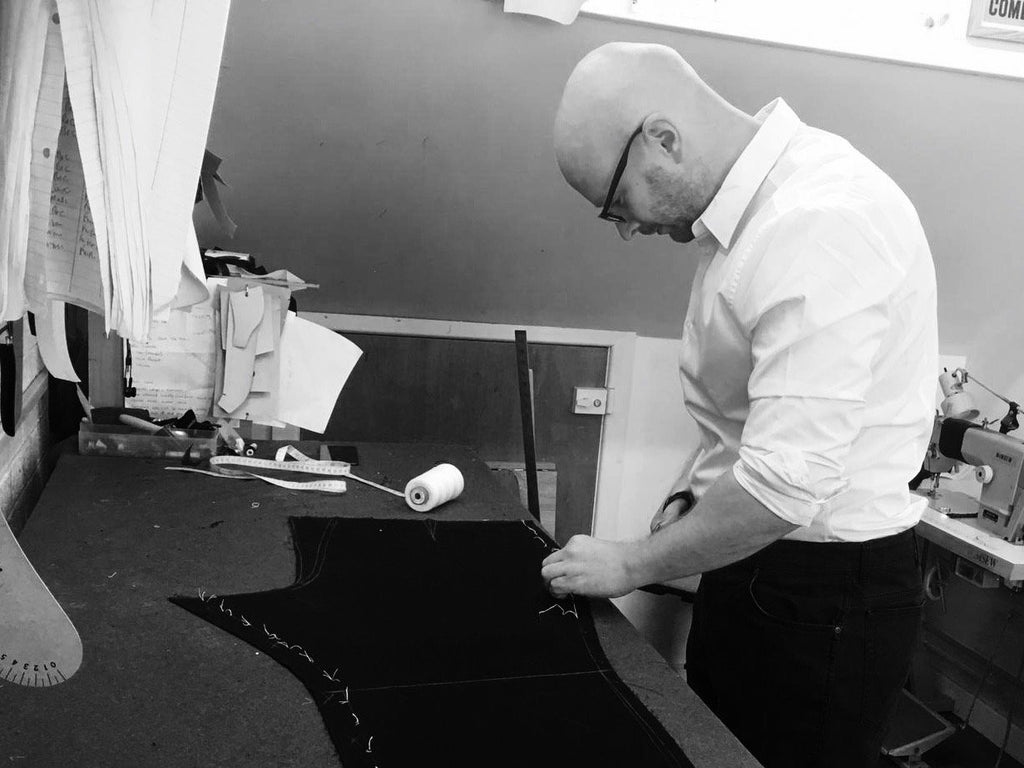 This month, The Journal is in conversation with Benson & Clegg's trouser maker, Daniel Kozyra. He discusses how his passion for menswear began at an early age, his route into the trade, and the many influences that have helped define his own unique style of tailoring.
Looking through Daniel's extensive archives is like digging through a who's who of celebrities, industry leaders and British Royalty. The fact that Daniel has been responsible for creating garments for such luminaries is proof enough that he is the best at what he does.
Growing up in the north of England, Daniel harnessed a passion for sartorial excellence from an early age. After completing a BTEC National Diploma in Fashion and building a solid foundation in art and design, he was eager to absorb as much knowledge from designers and influencers as he possibly could. But it was the chance discovery of a tailoring book that opened his eyes to a whole new world of menswear...
"I discovered The Savile Row Story by Richard Walker, a fascinating book about the history of Savile Row. I remember clearly an image of Roger Moore being fitted for a James Bond suit and I was blown away! From that moment, I knew I wanted to be a bespoke tailor."
It was while studying his BA Honours in Fashion & Clothing at Leeds College of Art that Daniel, at last, had the opportunity to dedicate himself to bespoke tailoring. Upon graduation, he went through the rigmarole of contacting just about every tailoring house on Savile Row for an apprenticeship, but his efforts were to no avail. After being recommended to Birmingham based tailor, Ahmet Yusuf, Daniel secured a two-year apprenticeship under the watchful eye of Mark Purcell, a man who remains his mentor to this day.
"That's when my education in bespoke tailoring really started." Daniel reflects. "It was a completely different world. I was lucky enough to be influenced by a myriad of tailoring styles, from English to Cypriot to Italian, learning everything from alterations and hand-stitching to trousers and waistcoats. It was all very precise – if I didn't do the work correctly I'd keep doing it until I got it right. Always evolving, always improving"
It was in 2016 when Benson & Clegg's soon-to-be Head Cutter, Oliver Cross, brought Daniel to Meyer & Mortimer, "I knew the quality of Daniel's work, which was second to none," says Oliver. "We knew instantly that he had to be part of the team."
Fast forward 3 years and, in a short time, Daniel has rapidly risen through the ranks to become one of the trade's most sought-after makers and, today, is head trouser maker at Benson & Clegg.
"Daniel is renowned for his meticulous attention to detail and the sheer quality of his work is unrivalled," says Benson & Clegg's Managing Director, Mark Gordon. "He has a reputation for being one of the best trouser makers in the business, and – luckily for us – he's all ours!"
For more information on Benson & Clegg's tailoring services click here.