A Gentleman's Guide to Skincare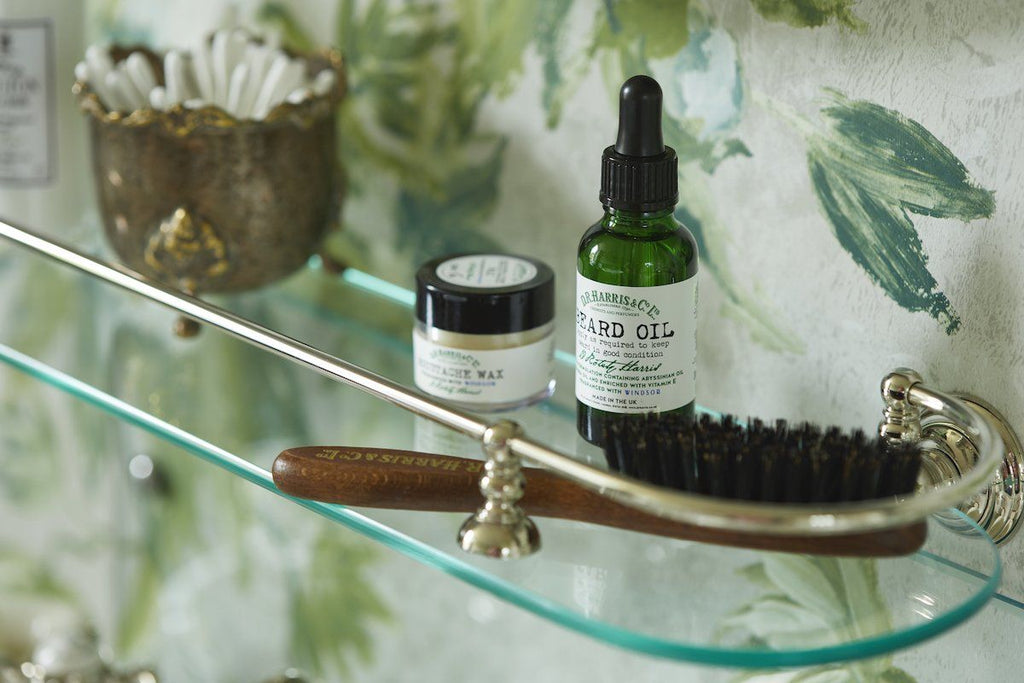 With mass confinement still underway and no sign of it ending any time soon, it would be easy to let one's standards slip. Indeed, at the beginning of lockdown it was a bit of a boon - particularly for those not used to working from home - to experiment with more relaxed modes of dressing and working. However, over a month in, and a desire to retrieve some sense of normality has taken hold. One area that should certainly not be overlooked is personal grooming and, in particular, skincare. We spoke to friends of the brand and London's oldest pharmacy, D.R. Harris, who, with two Royal Warrants to their name, certainly know a thing or two about maintaining a proper skincare regimen.
It's a much longer period away from the office than your seasonal vacation or Christmas holiday. And, with none of the photo opportunities such times of year are prone to present, this period of self-isolation is as good a chance as any to try a new style of facial hair. Get the awkward, patchy part out of the way in seclusion, but bear in mind that the decision not to shave doesn't release you from all grooming duties. Using beard oil will not only help to relieve any itchiness, it will also keep the skin under your beard in good condition. The skin on your cheeks, chin and neck can become dry as they begin to adjust to life away from regular exposure to sunlight. A small amount of beard oil will help to keep this skin in good condition as well as giving your beard a lustrous sheen and enticing aroma. Groom with a beard brush to help distribute the oil evenly.
With mornings now a little more leisurely, and with the opportunity to establish new habits, there has never been a better time to focus on the overall health of your skin with a daily skincare ritual. A few extra moments once a week to exfoliate combined with the use of a dedicated face wash every couple of days will cleanse your skin, removing dead cells and keeping it fresh and rejuvenated. We also advise using a moisturiser daily to keep your skin hydrated and nourished. During colder months this is particularly important, and though the days may be warming up as we head towards summer, it's a good all year round habit to form, and will only benefit the health of your skin in the long run.
If you've spent too much time in front of screens — be it working or binging on Netflix — then your eyes may require a much needed refresh. We recommend our Crystal Eye Gel which has a combination of cooling and soothing elements, including cucumber extract and witch hazel. Apply with gentle patting movements following the outer surround of the eye area but using no pressure. Keep it in the fridge for added coolness.
One piece of advice that surely doesn't need repeating is to wash your hands, regularly. Indulge your hands with our Almond Oil Hand Wash, fragranced with rose geranium, cinnamon and cloves, it is gentle on the skin and a must-have for any bathroom. While routinely washing is essential, the regular exposure to water can lead to dry, cracked hands, even when using the best of soaps. Alleviate the discomfort by applying a moisturising hand cream with little-to-no fragrance. Our Cucumber & Roses Hand Lotion has a fragrance which has been used by D. R. Harris for over 150 years, and is rich in coconut oil and glycerine which soothes and nourishes the skin. The aroma is the quintessence of the classic English springtime: clean, floral and crisp, a little reminder of good times past and better times to come.
Words by Julian Moore; Head of Sales & Marketing at D. R. Harris